May-November 2006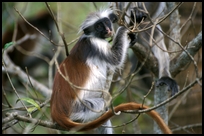 This picture shows the Zanzibar red colobus monkey (Procolobus kirkii). These monkeys are leaf eaters and digest the cellulose with a four chambered stomach like a cow. Hmmm... have you ever seen a cow hanging from a tree?

March-April 2006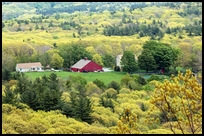 New England is famous for its fall colors. However, it looks beautiful in spring too. Here is a view of a small farm near Mt. Wachusett. I took this photo in May 2005 on my first hike of the season. Wachusett Mountain State Reservation offers some nice easy trails up this 2006 feet (611 m) high mountain and when you are too tired you can come down via the access road. In Winter it is a very popular Ski Resort with people in central Massachusetts.

August 2005 - February 2006
Sorry, no pictures. My camera got stolen.

July 2005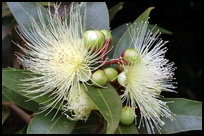 The flower of this Rose Apple tree (Syzygium jambos) that I took on Kauai reminds me a little bit of the 4th of July fireworks. The buds explode into flowers. A few other trees on the islands of Hawaii have very similar flowers. However, some bear poisonous fruits (Barringtonia asiatica). Professor Carr of the University of Hawaii has an excellent page showing pictures and descriptions of a wide variety of plants on the islands.

June 2005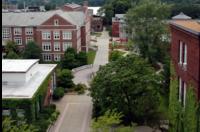 This picture shows the campus of the Worcester Polytechnic Institute. Even though it is not an Ivy League university, it does have a lot of ivy growing on its buildings. Another thing to observe is the emptyness. I took this picture in July last year on a cloudy day in the afternoon. The WPI Wireless Association asked me to document their efforts of hoisting a repaired antenna on their W1YK tower on the roof of Salisbury Labs. This roof offers an interesting view of the campus.

May 2005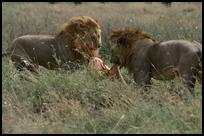 We got up very early on the second day of our safari in the Serengeti National Park. Many animals are more active before the mid day heat. We spotted these two male Lions who just successfully hunted a Water Buffalo. Now calm and relaxed, they are having a feast for breakfast.

April 2005
Sorry, no picture for April.

March 2005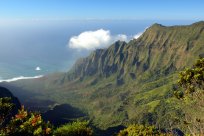 This is a picture of the spectacular Kalalau Valley on Kawai, Hawaii. It is located in the northern part of the island at the Na Pali Coast.

February 2005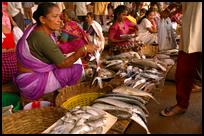 "Would you like some fish?" Women selling fish in the market of Panjim (Panaji) in Goa, India. This is a first try of mine at street photography. Most of my pictures here are landscape scenes. I noticed that many people got to my web page by looking for pictures about India. If you are one of those people, please let me know how you found this page ie. which link did you follow, which search term did you use.

January 2005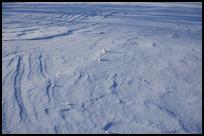 Snow. A lot of snow fell this month in Worcester. According to this Article from NOAA this is the snowiest January on record for Worcester, MA, with 51.1 inches till Jan 27th. I took this picture a few winters ago but I think it perfectly reflects the masses of snow, the icy wind, and the low winter sun.

December 2004
Sorry, no picture for December.

November 2004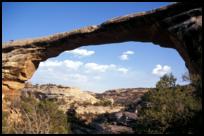 This is a picture of the Owachomo Bridge of the Natural Bridges National Monument in Utha. It is a lot smaller than the famous Arches National Park and has much fewer visitors. I visited it on day 64 of my Coast to Coast bicycling tour.

October 2004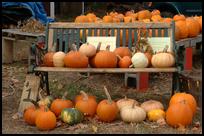 I took this picture this month on a trip to western Massachusetts. I was driving on Rt.202 between Holyoke and Belchertown when I came across a farm selling pumpkins. Actually there are many farms selling pumpkins this month but this one was especially nicely set. I wish everybody a happy and scary Halloween.

September 2004
Sorry, no picture for September.

August 2004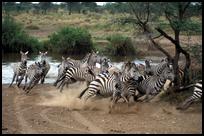 Here is another picture from my Tanzania trip in 2003. During a Safari in the Serengeti National Park we came accross this zebra crossing. This herd of zebras was drinking at a water hole when it got spooked by a lion that was near by.

July 2004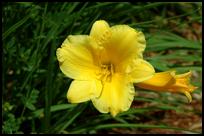 There is nothing special about this months picture, it just looks nice. I tried to figure out how good the Nikon D70 is with its kit lens. I must say, I was pretty impressed that it still works so well under near macro conditions. The sharpness and picture quality is incredibile. Digital SLRs are really up to par with film SLR cameras.

June 2004
Sorry, no picture for June.

May 2004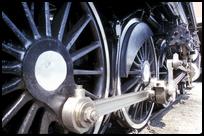 This month's picture shows the wheels, drive rods, and coupling rods of the L&N #152 steam engine from the Kentucky Railway Museum". The L&N #152 is a 4-6-2 Pacific type Alco locomotive built in 1905 by Rogers Locomotive Works. #152 is the official steam locomotive of the Commonwealth of Kentucky as designated by an act of the Kentucky Legislature. Unfortunately it was not under steam when I visited the museum in 2002.

April 2004
Sorry, no picture for Arpil.

March 2004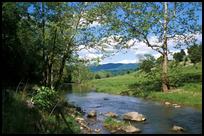 Even though it is still winter, I guess most people have seen enough snow. At least I'm looking forward to spring. Therefore here is a picture that I took in May 2002 on the 9th day of my coast to coast bicycling trip. After leaving the town of Lexington in Virginia, the little side street runs parallel to Broad Creek.

February 2004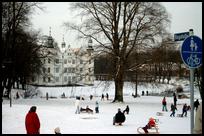 This is a picture taken by my father end of January of people enjoying the snow in front of the Ahrensburg Castle. The castle was build around 1595 in the late renaissance style under the direction of Peter Rantzau. In the 1800 major changes have been made by the dukes of Schimmelman (similar to the design of the Danish Castle). The street sign to the right shows a road called "Bagatelle" which translates into "trifle" in English.

January 2004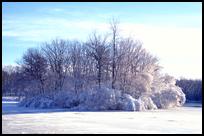 Yet another picture taken in Wonderful Worcester. The Institute Pond has a small island in its center which is depicted here.

December 2003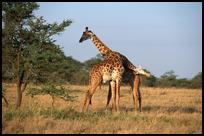 When my friends and I were in Tanzania we went on Safari to three national parks. Seeing all these animals in their natural environment roaming freely was amazing. When we left the Ngorongoro Crater and its conservation area in the afternoon we spotted these two giraffs.

November 2003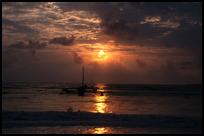 This is the first of my Tanzania pictures that is on my web page. More pictures will be added at a later point in time. At the end of our trip to Tanzania we went to Zanzibar. We stayed in a beach house on the east coast. Almost every morning we had a gorgeous sunrise. Here you see a traditional outrigger fishing boat in the foreground.

October 2003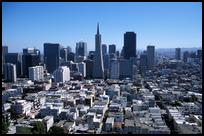 In July my hard disk died, in August my computer, so there were no new pictures for two months. But now I should be able to keep up. Here is a picture of the financial district of San Francisco taken from the Coit Tower last year. In the forground you can see the typical San Francisco houses.

July 2003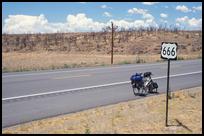 Sorry for putting up the picture for July so late. My big Maxtor hard disk, on which I stored all my image data, died overnight in the beginning of July. This picture came into my mind when this happened. The route of my Coast to Coast bicycling tour followed the Devil's Highway in Utah for a few miles. In June 2003 the American Association of State Highway and Transportation changed the number from U.S. 666 to U.S. 491. By the time the road workers went out to change the signs all U.S. 666 signs were stolen. I was not so crazy to carry a road sign whith me on my bicycle.

June 2003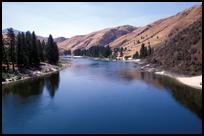 In 2000 I went on a short bicycle trip across the Rocky Mountains. On my fifth day I had a very scenic ride. I went over White Bird Hill in northern Idaho on this extremely hot summer day. After the hamlet of White Bird my route ran parallel to the Salmon River which can be seen on this picture.

May 2003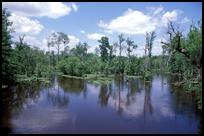 About one year ago I took this picture somewhere in Virginia. It was during the first days of my Coast to Coast bicycling tour when I was still travelling alone. It is too bad, that I can't be on a similar tour now, but that I have to be in the lab doing research. Maybe in September I'll do something exciting again.

April 2003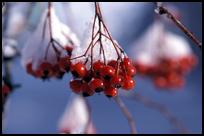 There is still snow in Worcester. This picture shows some berries with an icing of freshly fallen snow. I took it in December with a macro lense in front of my appartment.

March 2003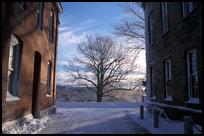 Even though it is already March, there is still snow in Worcester. This picture however is from December 2002. The dark walls of Boynton Hall (right) and Washburn Shops (left) are towering over the viewer. But there, right behind those threatening looking buildings is the horizon. A glimpse of nature, a tree, blue sky and the light of the rising sun, all are looking bright and friendly.

February 2003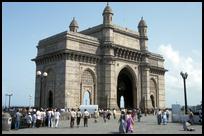 In 1999 I went on my first trip to India. Now, three and a half years later, I have finally scanned and resized the pictures. Guess when the pictures of the bicycling trips will be online. Which picture would be more suitable to announce that the India pictures are online than a picture of the Gateway of India. You can find more pictures from India on my India page

January 2003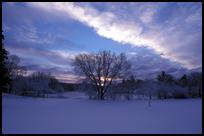 On December 25th, Worcester had its first big snow storm this winter. I woke up very early the next day. I had too much heavy food the night before and my stomach was unrestful and did not let me sleep. I saw that the clouds had cleared and that we would get a nice sun rise. So I walked into Institute Park and took this picture.

December 2002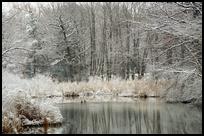 We had a lot of snow here in Worcester this month. Reason enough to put a picture on my page that I took last winter of the Institute Pond in Worcester. This was the only morning where we had some snow that year. I took the picture very early in the morning after spending a night in WPI. Notice the duck-couple swiming side by side through the icy water.

November #2 2002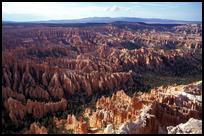 I did not post many Pictures of the Month this summer. This was partially because my scanner did not work and because I was on a bicycling tour. To make up for this, here is the second Picture of the Month for November.
I took this picture of the georgeous Bryce Canyon National Park this summer while I was crossing the country on my bicycle.

November #1 2002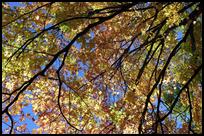 I took this picture at Wachusetts Reservoir in the middle of October. I was lying flat on the ground looking up in to the leaves which were lit up by the sunlight.

October 2002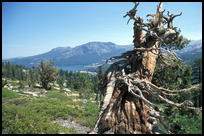 This is the first picture of my bicycling tour across the USA that is online. More are going to follow in about a month. After climbing across Carson Pass the landscape is beautiful, blue lakes, high mountains, and this dead tree. I find its shape fascinating.

June-July 2002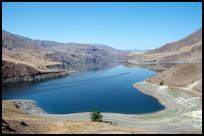 This picture shows the Brownlee Reservoir in Hells Canyon. It is the border between Idaho and Oregon. I took it in 2000 when I was riding from Missoula, MT to Eugene, OR. It was above 100 F there and there was no shade.

May 2002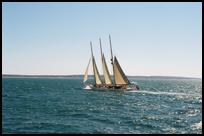 I took this picture while I was on the ferry from Martha's Vineyard to Woods Hole. This sailing boat crossed right in front of the ferry. I was on Martha's Vineyard for a bicycle ride to help fighting Multiples Sclerosis.

April 2002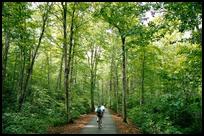 This picture indicates what I will be doing this summer. I will be on a bicycle trip from Virgina to San Francisco, 3 Months, 4000 Miles. I took this picture in the White Mountains when I hiked along the bicycle path to get to the beginning of the Liberty Spring trail.

March 2002
Sorry, no picture for March.

February 2002
Sorry, no picture for February.

January 2002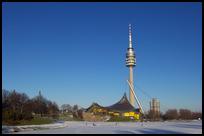 I took this picture today (01/03/2002) in Munich. Thanks to my friend's (Hans-Michael) digital camera I can put it up right away. In the foreground is the Olympic lake, now frozen and some people are ice skating. The building right behind the lake is the Olympic Swimming Pool and to its left behind the trees is the Olympic Gymnasium. In the background is the TV Tower and to its right the BMW building.

December 2001
Sorry, no picture for December. I was just too busy and my scanner is still not working

November 2001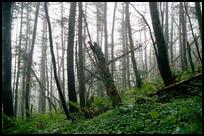 In the middle of July I was hiking up the Liberty Spring trail towards Mt. Liberty in New Hampshire. Even though it was sunny and warm in Worcester there were lots of clouds and a light rain in the White Mountains. The clouds were hanging very low so that the towards the top I was walking in clouds. This is were I took the picture of the dead tree overgrown with moss.

October 2001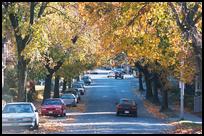 This is a picture of West Street in Worcester, MA. West Street connects the WPI Campus with Rt. 9. I took this picture with a Nikon 80-200 mm f2.8 zoom while lying flat on the street. My friend Gunnar stood behind me so that I did not get accidentially run over by a car.

September 2001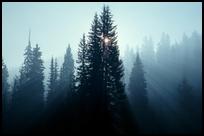 I took this picture last year when I was on my Rocky Mountain Bicyle Tour. I left Lolo Hot Springs, which is close to Missoula, MT, early morning and headed up the Lolo Pass. Smoke from a forest fire was hanging over the area. The higher I climbed the thicker the smoke got. At one time when I stopped to catch my breath I saw the sun directly behind a pine tree and the beams of light passing through the smoke.

August 2001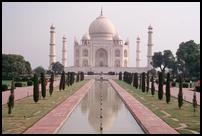 The Picture of the Month for August shows the famous Taj Mahal in Agra, India. I took it in 1999 on my first trip to India. The Taj Mahal is a magnificent, beautiful building, but it is not a palce, it is a mausoleum. The Emperor Shah Jahan had it built in memory of his second wife, Mumtaz Mahal, who died while giving birth to her child.

July 2001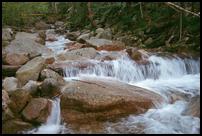 The Picture of the Month for July was taken a few years ago in New Hampshire, USA. It shows a small stream at the Falling Waters Trail in the White Mountains running through a forest. The Falling Waters Trail leads to the top of the Little Haystack mountain.