Picture of the Month (December)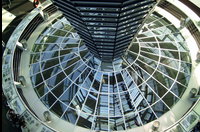 This picture does not show the control room of a space ship. This is the room under the cupola of the German Reichstag, the seat of parliament. The parliaments chamber is below the glass disk on the bottom of the picture. The trunk with mirrors coming from the top of the cupola reflects natural light to the chamber of parliament, serves as an exhaust for the chamber, and contains a heat recovery system that uses the energy in the exhausted air to heat the building.
Pictures of previous Months The pictures of the previous months from July 2001 on can be found here.


What is New
09/17/05

Someone broke into my house Saturday September 17th and stole my camera with some lenses. Here is a list:

Nikon D70 Digital SLR serial number 3063674,
Nikon AF-S DX ED 18-70mm/3.5-4.5G serial number 2144748
Nikon AF-D ED 80-200mm/f2.8 zoom telephoto lens incl HB-7 hood
Tamrac Camera shoulder/hip Bag, black with black shoulder strap and brown leather shoulder cushion, TA706B
as well as many little things like filters and memory card

All in all the equipment is worth about $2,300 new. If you see this equipment with the above serial numbers for sale somewhere please send an e-mail to me at jpkapsNOSPAM@jpkaps.com

07/20/04

I finally created the Research page. It does not contain much but contains a link to my research area page at WPI.


What is New - Archive
The What is New entries from the year 2003, 2002, 2001.